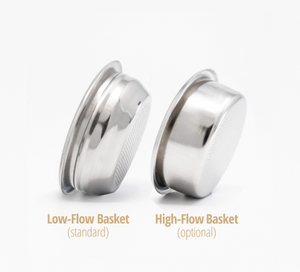 Flair 58 chamfered (low-flow) 18 grams basket:
The low-flow 18-gram basket is perfect for any home brewer's kit and allows for a dose range between 16-22 grams. This low-flow basket, when compared to the standard straight-walled basket of the Flair 58, allows for an easier dial-in process by allowing a grind that is coarser for proper extractions, thereby increasing the overall compatibility with a range of grinders.

The Flair 58 base model comes ready with the low-flow basket.

Straight- walled 18grams basket:
The straight-walled basket will require a grind that mimics a commercial machine.


Diameter: 58mm basket